Automotive Sensor Bodies Manufacturers
At Griner Engineering, Inc., we are a premier automotive sensor bodies manufacturer in Bloomington, Indiana. Automotive sensors are devices that detect a change of events or environment, providing a corresponding output. They can sense a physical input and respond with a suitable output. These sensors transmit the output electronically for further processing.
Automotive Pressure Sensor Bodies at Griner Engineering, Inc.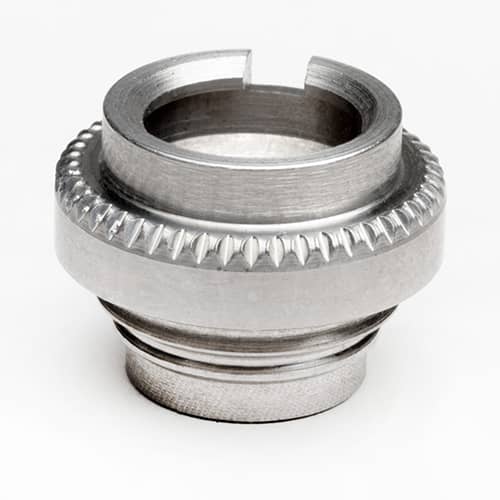 One of the automotive sensors that we at Griner Engineering, Inc. manufacture at our facility is the one that accelerates the operation of automobile airbags. These innovative, high-quality, and safely-built automotive sensor bodies help activate airbags upon a collision.
The one in the picture on the left is an automotive pressure sensor that connects to the propellant and electrical connector from the top. A projectile on its bottom pierces the nitrogen container upon ignition to release the gas and inflate the side airbag to prevent an emergency.
Request a Quote
If you are a business dealing in similar products, we can assist you with your project needs. We are experts in the field of sensor technology, offering extensive and customized solutions for advanced applications.
In the Original Equipment Manufacturer (OEM) section, automotive sensor bodies are one of the fastest growing technologies, particularly in North America. Moreover, there is an exceptional rise in pressure sensors owing to the various safety concerns. We work along those lines to perfectly fit your unique project applications.
Our Capabilities
To help you accommodate the increasing demand for these smart sensors, Griner Engineering, Inc. can help. We have experienced professionals working on each component with absolute precision and safety at our state-of-the-art facility in Indiana. Our experience, know-how, and innovative approaches make us different from the many service providers in the market.
What makes us different?
40+ years of experience
Personalized and responsive service
High-performance and quality parts
Competitive pricing
In addition, we are a trusted and leading precision turned parts supplier in North America. Our facility is well equipped with the best in class machinery to manufacture close tolerance, complex parts in seconds. Our experts can also provide prototyping work capabilities.
Get In Touch With Us Today
Griner Engineering, Inc. supplies reliable and high-quality automotive sensor bodies for your process. These sensors can efficiently collect all performance data and communicate to other systems of the vehicle, running it smoothly. Talk to our product support specialists for any further information. Call on
812-332-2220
or write at
sales@griner.com
to request a quotation or a representative visit to help accommodate your purchasing requirements.